About
About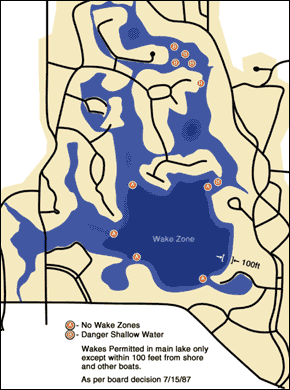 In the northwest corner of Canton, Ohio, three minutes from Stark County's busiest retail area and the bustling Akron-Canton Airport, sits a sea of tranquility. Lake Cable is a residential community along the shores of a 150 acre lake. Over 700 homes are found here. The winding roads, beaches, marinas and rich vegetation that circle the lake give the community a resort-like feel throughout the year. This is a place as far from the outside world in spirit as it is close to that world in distance.
Lake Cable came into being in the 1920's as a resort real estate venture of Dueber and Austin Cable. The two brothers were successful Canton-area contractors who longed for an outdoor paradise they could enjoy with their like-minded friends. Both brothers built magnificent homes along the shores of the man-made lake they built. The Lake Cable Allotment they laid out covered over 400 acres surrounding the lake. Over 300 of the parcels laid along the shores of new Lake Cable.
Until the 1950's Lake Cable remained a fishing and boating paradise far from downtown Canton. As Canton's population spread outward, however, the lake became a popular residential community. Homes sprang up all around the lake, pushing out many of the smaller resort-type cottages that had been there. Even at this stage of its' development Lake Cable exhibited a diversity that remains to this day. Today, Lake Cable is one of the most diverse and eclectic residential areas in Stark County. Here stately mansions and other large homes sit side-by-side with bungalows, colonials, split-levels and just about every other style of home found in the area. It is a community of neighbors from all different walks of life. Lake Cable remains a sportsman's paradise with fine fishing boating, swimming, ice-skating and hiking opportunities. In the summer the roads around the lake welcome bikers, hikers and joggers who enjoy the scenic views. Sun-worshippers fill the beach while pontoon boats, fishing boats and paddle boats move lazily across the water. The unique combination of water sports, great fishing, scenic beauty, great housing and friendly neighbors make Lake Cable the kind of place where, you want to be.
It's home